A message from our owner, John Huddleston:
I was fortunate enough to grow up on the Texas Gulf coast.  I spent most of my summers boating.  I learned to sail at the age of 5. Soon after that, I was single handing a super sunfish and my sailing progressed to larger boats. At the age of 8, my father used to pick me up from school early on Wednesdays to race with a crew on a 40 ft Morgan out of Kemah. As the years progressed, my love for boating never waned.
As I got older, we purchased a power boat. So if I was not sailing, I was fishing.  I have sailed in the Harvest Moon Regatta. Also, made several gulf crossings.  Sailed the Sea of Cortez from Loreto to Cabo. Delivered my own 45 Cabo express from Jupiter, Florida around Key West, all the way to Texas. The last part of the trip was single handed from Biloxi, Mississippi to Matagorda, Texas in the intercostal. I still Fish tournaments.  I captain an all women's team for the Mermaid tournament. I have fished the Deep Sea Roundup, Poco, and Blue Water Challenge, as well as for fun.  I normally log between 500 and 800 hours a year offshore. With thousands of hours logged of offshore experience, I have learned that maintenance and inspection is imperative to safe boating. As well as, having a reliable boat that can fulfill the needs of the owner.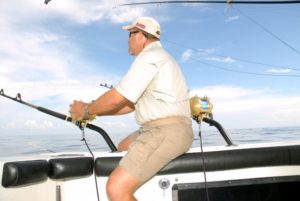 I have many friends involved in boating and I was seeing the excitement of a new boat purchase, just to find the hidden cost that due to faults or lack of maintenance performed on the boat.  The excitement would turn to dismay.  
Certifications (Click links to verify):
Society of Accredited Marine Surveyors, Inc. 
The National Association of Marine Surveyors
American Boat & Yacht Council (ABYC)